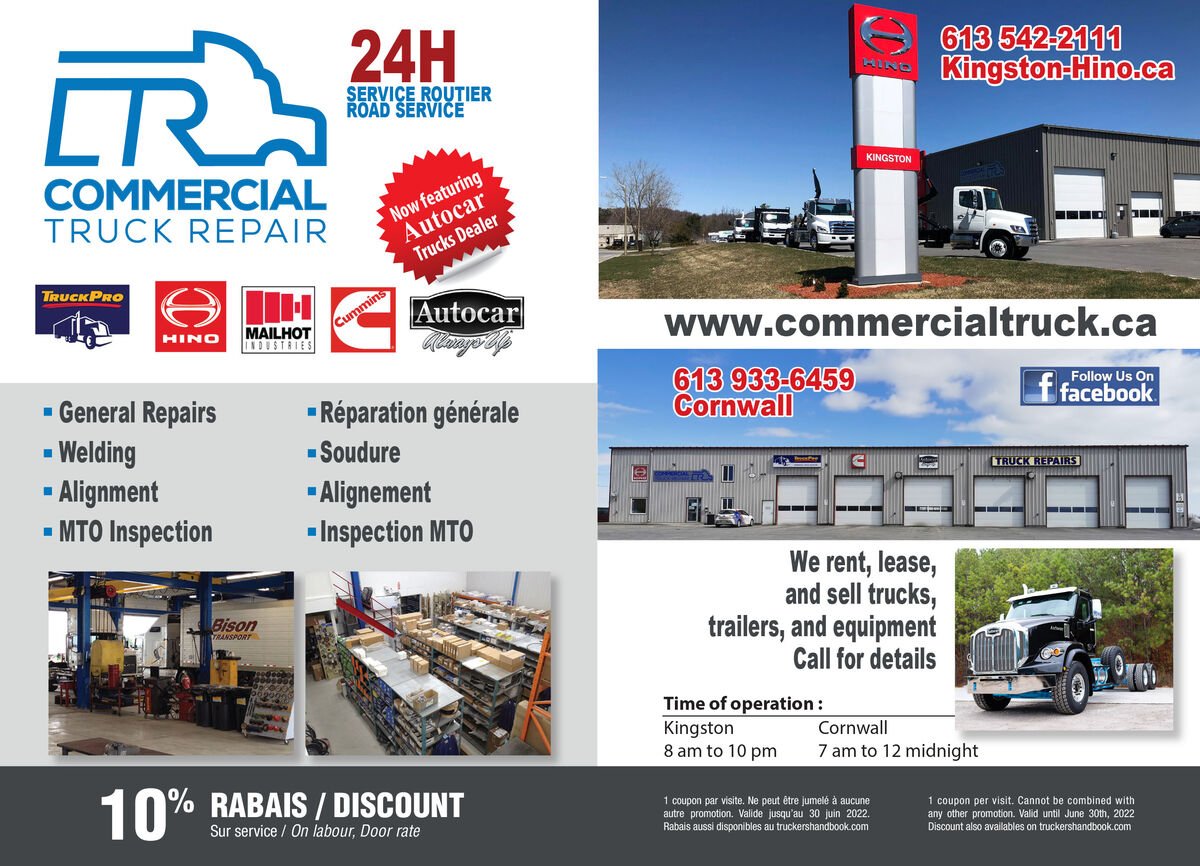 Commercial Truck Repair
10%

10% discount on labour door rate, with coupon.

Terms

Limit 1 coupon per visit. Cannot be combined with any other offers/promotions/specials.

Valid until June 30th 2021.

Discount also available on truckershandbook.com
2550 Industrial Park Drive, Unit B, Cornwall (Ontario) K6H 7N1
Commercial Truck Repair was established in 1995 and in 1997 became Incorporated. In March of 2013 Commercial Truck Repair opened its doors in a new state of the art facility which included a 12 door garage, an O'Brien 5 ton over head crane that runs over 3 parallel bays and an 80 foot pit.
Our Fleet includes 3 Service Trucks, 3 Pick up Trucks, 1 Delivery Van, 2 Shunt Truck, a Loader and a Forklift.
NOW EASTERN ONTARIO'S AUTHORIZED AUTOCAR TRUCKS CERTIFIED PARTS, SERVICE, AND SALES DEALERSHIP.
ALSO CANADA'S ONLY AUTHORIZED DC-64 SALES DEALERSHIP.
NOW THE CORNWALL AND AREA'S AUTHORIZED HINO MOTORS OF CANADA CERTIFIED PARTS AND SERVICE DEALERSHIP.
Now featuring our second location in the Kingston Area!
We Offer:
Autocar Trucks Parts, Sales, and Service support
Hino Motors of Canada Parts and Service support
Authorized JC Trailers Fabrication and Design reseller
Authorized Beauroc box reseller
24 hr Emergency Service, 7 days a week
Truck Leasing and Daily Rentals
Maintenance & Repairs on Medium and Heavy duty trucks, and Trailers (All Makes and Models)
Air Conditioning service and Repair
Autocar DC64,ACX, and ACMD truck sales
Hino Truck Sales (Out of the Kingston location, but providing Sales to the Cornwall area as well)
Electrical Diagnostic (All Makes and Models)
Pick up and Delivery service
Parts Delivery service available upon request (Local area)
Environmentally Friendly (Disposal of Materials)
Natural Gas certified building
Auxilary parking for Trucks & Trailers available
Transmission and Differential service and Repair
Differential sales/repair
Engine maintenance/repair
Ontario Annuel Inspection
RV Maintenance and Repair